HP Jornada 548
One of the best, that I have used.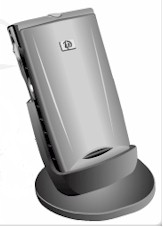 The Jornada 548 from HP (Hewlett Packard) has slimmed down from its early predecessors like the Jornada 430 series. Its uniqueness is its style, "great job, HP" slim, sleek quite beautiful to look at. From its sturdy aluminum cover (548 model) to its gracious lines, its impressive!. But, looks are not all the goodies you get. Right out of the box you receive a USB cradle, AC adapter, additional travel serial cable, earphones and nicely bundled software. The Jornada comes with 133mhz, 32 bit processor by Hitachi, the 548 series has 32MB of RAM vs. the 545 series with only 16MB, type I expansion slot built in, microphone, speaker and infrared port. The "Jog Button" on the side of the case makes it easy to scroll down that large "to-do" list we all seem to have, works great for ebooks. The other buttons on the case are easily programmable to your liking. Bottom line its a great little machine!
If you hurry you can pick up one of these beauties from HP from their online store and get a free Targus Folding Keyboard for free all for $449.00 clk on this link Buy NOW! (Oh!, by the way I get no commission.)
---
The Old Story
It's always the same old story, you go out of your way to buy the damned thing and that's all the store carry's, just the damned thing! No ifs, ands or buts about it! Case in point my Jornada purchase. You think the place I bought it would have at least one or two cases to buy, SURPRISE! NOPE. I was looking for a case for my Jornada for while, couldn't seem to find anything. Until, I went to Kmart, believe it or not. There staring right at me, just what I was looking for! Not just any ordinary case, but a digital camera case to boot. Alright, so its not the typical $50.00 dollar case from Pocket Gear, but it works fine for me, and for $10.00 who am I to complain. Well, you must think how cheap this guy is! He spent close to $500.00 for a Jornada and couldn't afford a decent case for it. Well, perhaps your right!, I'm just a practical guy, if its cheap to be practical, so be it. But, I have to tell you, its probably the best $10 bucks I have spent in a long time, besides the lunch I had. The nylon zippered case is padded with a small pocket that holds my modem and cables (phone jack, earphone, etc.), and the Jornada fits nicely inside the main compartment. The Jornada pulls out easily from the pouch without any struggle, the way I like it. Hmm, maybe I should call myself "Easy D"
Below are some shots, judge for yourself.