Ok, what is the sense of making schedules for your projects, if you can't take them with you! That's where cyProj comes along. Finally I can see my projects schedules and update them as I go from site to site. It is a great tool. I have been using the trial version for about a month now. It is limited to 20 tasks max. I put it thru the test and have to say the claims made by the designer are well founded. Don't know how I got along without it. I give it high ratings for usability, update tasks , create, delete and add resources to tasks. Import/Export notes task notes, just to name some of its capabilities....
Oh, by the way... I am purchasing the full version and will update my review if necessary.
For more information clk on this link

and go to the designers website.
Screen shots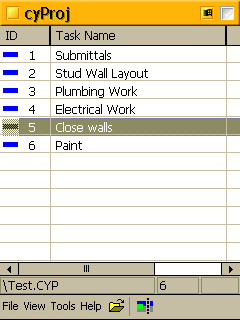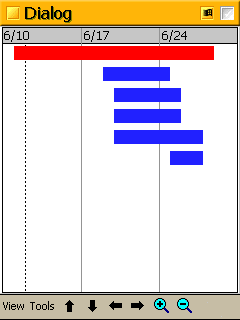 Landscape view seems to work, I had no problems. I did notice some problems with Pocket Blinds, (See above screen shots.) The "OK" button at the top right was not visible to clk out of a particular view screen.
I removed Pocket Blinds when I tried landscape view.